Total Eclipse Erase Detox Clear Cleansing 20oz. Drink With 5 Puritex Cleansing Jumpstart Tablets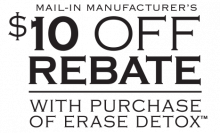 Powerful combination of great tasting 20 oz clear liquid and 5 detox jumpstart tablets. Together they work quickly to provide the extra strength needed for people with high toxins and large body mass. This effective formula helps boost the body's natural detoxification process to satisfy your same day detox needs.
Erase Detox Directions:  
Comfortably drink one 20 oz glass of water.   
Then shake the Erase Detox bottle and drink the entire 20 oz contents at a comfortable yet consistent pace while also taking the jumpstart tablets one at a time at a comfortable pace.  
Part of the detox process is frequent urination during the first hour after consuming the product, this is how your body expels toxins.
Now your body has achieved the optimum level of cleansing on the very same day.  
When cleansing the system, it is important to drink as much water as possible on a daily basis. Do not use any over the counter drugs, large quantities of vitamins, alcohol, acidic liquids such as vinegar or juices, nicotine, caffeine or other unwanted toxins prior to the use of this product. Do not eat any large meals before using this product.
Juniper Berry
Gentian Root
Wheat Grass
Alfalfa Leaf
Barley Grass
Creatine Monohydrate
Milk Thistle Seed Extract
Echinacea Purpurea Herb Extract
Guarana Seed Extract
Cayenne Pepper
Do not use this product if you are pregnant, breast-feeding, have kidney or gallbladder disorder or disease. This product is not recommended for prolonged use. When using this product you may experience minor nausea, diarrhea, dizziness or cramping. If you experience any of these symptoms, discontinue use of product. If symptoms persist, seek medical assistance. Not intended for daily use. These statements have not been evaluated by the Food & Drug Administration. This product is not intended to diagnose, treat, cure or prevent any disease.
CA Residents
www.p65warnings.ca.gov/food