Total Eclipse Assure Detox One-Step Cleansing System - 32oz.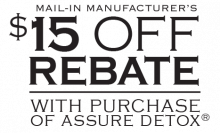 Assure Detox is one of the most powerful cleansing herbal detox drinks. This easy-to-use 1-step detox cleanser is specially formulated for people with higher toxin levels or large body mass. Assure detox is specially formulated for people with higher toxin levels who want to be clean the very same day. Assure Detox is the reliable way to detox. Assure Detox has a unique mix of herbs and minerals that doesn't just remove toxins, it replenishes your body's natural balance of essential minerals and helps support the liver, kidney and heart.
Traditionally herbs have been used for centuries to cleanse the body and support vital organs. That's why we continue to use key ingredients like Dandelion Root (supports a healthy liver), Burdock Root (traditionally used as a diuretic to help release toxins from the body), Uva Ursi (kidney support) and so many others. Be clean when you want to be clean with Assure Detox. Let Assure Detox work to detoxify your body the very same day.
Assure Detox Directions:
Simply shake the bottle and drink the entire 32 oz. contents at a comfortable yet consistent pace.
Part of the detox process is frequent urination during the first hour after consuming the product, this is how your body expels toxins.
Now your body has achieved the optimum level of cleanse on the very same day.
When cleansing the system, it is important to drink as much water as possible on a daily basis.
Do not use any over the counter drugs, large quantities of vitamins, alcohol, acidic liquids such as vinegar or juices, nicotine, caffeine or other unwanted toxins prior to the use of this product.
Do not eat any large meals before using this product.
Toxins hide in fatty tissue and have a harder time attaching themselves to muscle, so the more muscle mass you have the easier it will be to detox quickly. Our unique blend of herbs and minerals flushes out all the toxins quickly to help you detoxify your body. These carefully selected herbs, extracts and minerals work together to do in just a few hours what your body would do naturally in a month. Detox drinks work to remove toxins and bring your body back into balance the very same day. Choose Total Eclipse for a fast detox that works.
Rice Protein
Vitamin C
Thiamin
Riboflavin
Vitamin B12
Dandelion Leaf & Root Extract
Creatine Monohydrate
Ginger Root
Juniper Berry Extract
Apple Pectin
Tumeric Root Extract
Milk Thistle Extract
Alfalfa Leaf Extract
Uva Ursi Leaf Extract
And so much more...
Warnings:
Do not use this product if you are pregnant, breast-feeding, have kidney or gallbladder disorder or disease. This product is not recommended for prolonged use. When using this product you may experience minor nausea, diarrhea, dizziness or cramping. If you experience any of these symptoms, discontinue use of product. If symptoms persist, seek medical assistance.  Not intended for daily use.
Disclaimer:
These statements have not been evaluated by the Food & Drug Administration. This product is not intended to diagnose, treat, cure or prevent any disease.
CA Residents
www.p65warnings.ca.gov/food